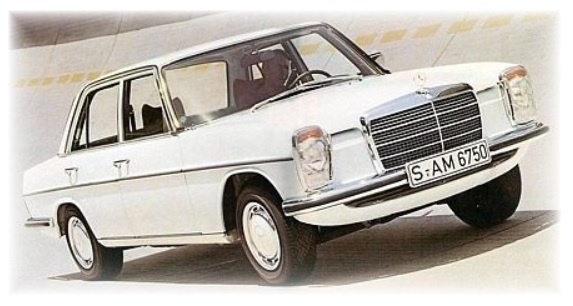 Mercedes Benz W115 220 220D
Reviewed
Many automobile experts agree that the most durable Mercedes cars ever built were those of the "New Generation", the Mercedes Benz W114 and W115 series. Introduced at the Frankfurt Auto Show of 1967, this new Generation of cars were as solid as Sherman tanks and destined to live forever. Devoid of black boxes and electronic gimmicks whose failures eventually relegate even rust free late-model vehicles to the bone-yard far before their time should expire, these simple mechanical builds are still doing well on the roads today.
Exceptional longevity, utility, and value convinced many early model lookers to take possession of a new Mercedes 220D about the time Neil Armstrong set foot on the Moon.

Complimenting the classic appearance perfectly, stock, date-coded 6 x 14" steel wheels, complete with painted and polished factory aluminum wheel covers gave these Benz models a classy uniform look.
The long life Diesel engine was the perfect fit in these vehicles as they came off the factory line!


Power disc brakes and power steering were standard features.
The 220's interior exudes all the bell and whistles of the modern century that falter and fail causing functional deterioration. Solid elegance is the main theme with richly embossed MB-TEX material, chrome-plated fittings, and the traditional square weave carpeting hat all provide a cozy interior atmosphere.
Seated in the captain's chair and looking ahead, you can admire the big "ocean liner" steering wheel, instruments, lights, switches, clock and other features that enhance the interior. Turn the ignition key, then pull the glow plug heater knob and the engine comes to life!
Seats are wide and firm, and seating spacing inside offers plenty of leg room for extremely tall people, even an NBA athlete would be able to stretch his legs out in these Mercedes models! Additionally there is also plenty of room in the rear passenger compartment for full-figured and long-legged occupants.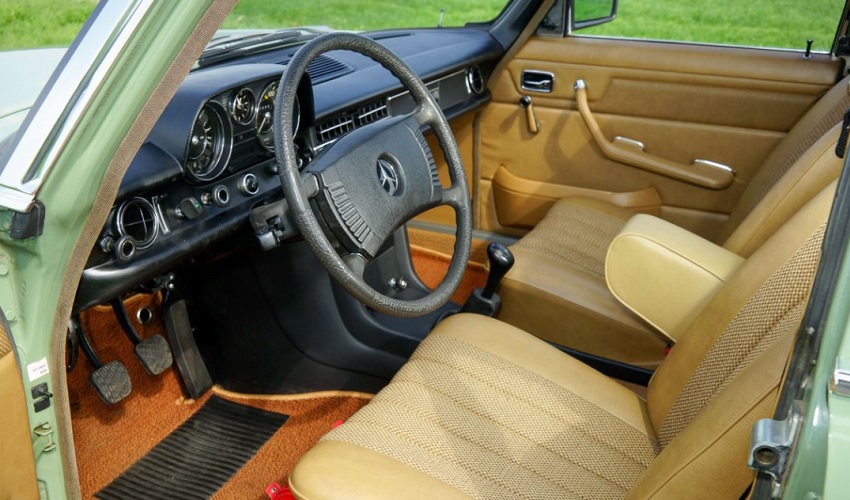 The cavernous trunk holds a spare, car jack equipment, and still has room to load several bicycles at once.
Front end is tight, the power steering very precise, and the power-assisted 4-wheel disc brakes anchor the car with the authority of a parachute. No question, these are super solid, super clean, and super safe cars!

The Mercedes Benz 220 D makes a magnificent adult toy, a Hot Rod in disguise, and reliable daily commuter.
The W115 220 offered a petrol engine option over the 220D diesel. While the longevity of the petrol engine didn't match up to the lifespan of the diesel, it still garnered good reviews.
Mercedes Benz 114-115 - W114-W115 Models
U.S. Market - Index of Series W114 - W115 Mercedes Benz Vehicles

Model
Years Built
Chassis
Engine
Produced
220
1968-1973
115.010
I4 115.920
128,398
220 D
1968-1973
115.110
I4 615.912
345,376
230
1968-1969
114.015
I6 180.954
152,822
230
1974-1976
115.017
I4 115.951
63,497
240 D
1974-1976
115.117
I4 616.916
126,148
250
1968-1970
114.010
I6 114.920
78,303
250
1971-1972
114.011
I6 130.923
22,624
250 C
1970-1972
114.023
I6 130.923
10,527
280
1973-1976
114.060
I6 110.921
1,241
280 C
1973-1976
114.073
I6 110.921
8,227
300 D
1975-1976
115.114
I5 617.910
53,690