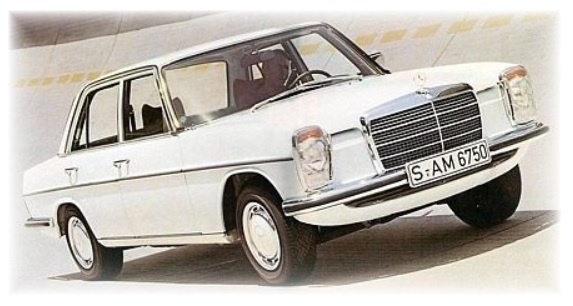 MERCEDES BENZ W114 - W115
SERVICE REPAIR MANUAL COLLECTION
Visit our home page to see all workshop and repair manuals for the Mercedes Benz 114 and 115 series
Mercedes Benz Repair Manual Collection
1968 - 1976 Models 220 | 220D | 230 | 240D | 250 | 250C | 300D
This Mercedes Benz 114 - 115 Service And Repair Manual Collection Is An All Inclusive Collection
Maintenance, Service, Repair Manuals on CD. The Best You Will Find! This is a Complete Comprehensive Mercedes Benz Repair Manual. CD Runs In A Browser And Works With All Operating Systems. Zoom in & Print any Page or Diagram
OEM - Same Manual Used By Mercedes Mechanics!
Mercedes 114 - 115 Service and Repair Manuals on DVD

International

Ships Worldwide

Service, Repair, and Maintenance Manual's on CD

>>PayPal >>

Just $46.95

+ $3.05 For Shipping
U.S. Orders Only
See Download Option Below
1968 - 1976 Models 220 | 220D | 230 | 240D | 250 | 250C | 300D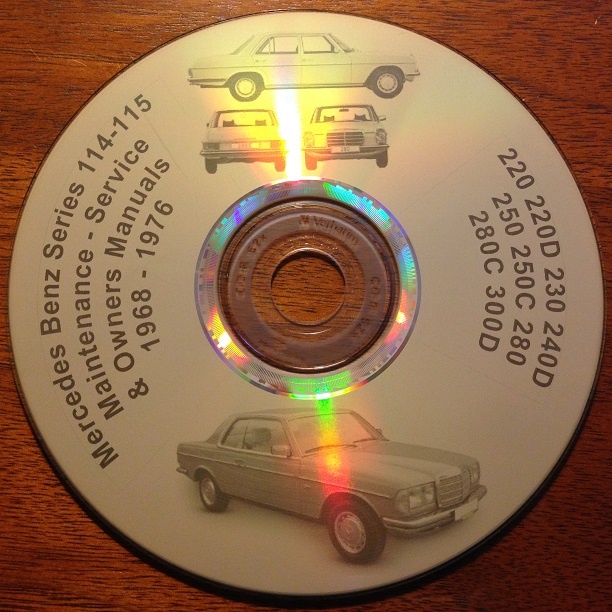 Mercedes Benz Series Service, Maintenance Manual Collection
This manual contains thousands of pages of detailed repair and troubleshooting procedures.
It covers Mercedes Benz 114 and 115 Series cars and includes bumper-to-bumper documentation including specifications, electrical diagrams, troubleshooting and diagnosis, engine mechanical repairs, suggested maintenance schedules and body and chassis assemblies including, doors, windows, switches etc.
Distributed for use by automotive technicians, this deluxe manual includes disassembly and assembly instructions as well as schematics, diagrams, and detailed illustrations along with troubleshooting info that covers the following topics:
---
Download English Language Manuals:
MB 114 115 Manual Collection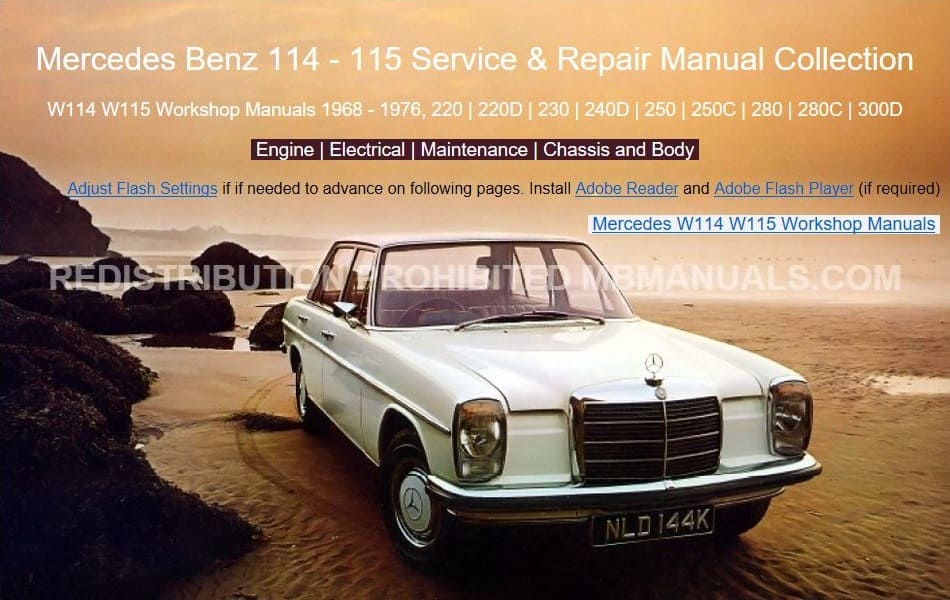 Download Desktop PC Installation Version 345mb
Service, Repair, Maintenance, Chassis, Body, Engine, Electrical, Heat/AC, delivered by Download Link

Delivery By Download Link: Sent to your PayPal email address: $24.95
---
Chassis and Body Assemblies, Suspension, Axels, Brakes, Steering
Engines, Lubricating, Cooling, Technical Data, and Assembly
Electrical Troubleshooting and Wiring Diagrams
Climate Control Heating & Cooling
Maintenance Inspections, Adjustments, Lubrication, and Service
Basic Owner's Manual Reference with Instruments and Controls
Technical Data on Fuels, Coolants and Lubricants
This Technical/Service/Repair/Maintenance Manual is available on CD, Local and International Shipping
Contains descriptive images and instructions in English, which allows reading both monitor of your PC, and printing the pages you need.
This Manual is the same information used by Mercedes Benz Mechanics. By using the same step by step manuals as the dealers use, you can be assured that all the information you need to do the job right is included.

INCLUDED WITH THE SERVICE REPAIR MANUAL:
Fuels, Coolants, Lubricants, Consumer Data
Maintenance Manual which includes:
Brakes and Cables, Hydro Pneumatic Suspension, Steering Linkage, Axels Clutch and Driveshaft inspections, Heating, Cooling and Fuel Systems
Chassis & Body Manual which includes:
General Technical, Suspension, Front and Rear Axel Assemblies
Wheels and Drive Shaft, Brakes, Climate Control Heating & Cooling
Electrical Troubleshooting Manual which includes:
Wiring Diagrams, How to Troubleshoot Guide
Engine Manual which includes:
General Technical Data, Engine Removal and Installation, Cylinder Head and Crankcase, Crankshaft Assembly, Engine Timing, Mechanical and Electronic Fuel Injection
Basic Owner's Operation Manual Reference
Mercedes Benz 114-115 - W114-W115 Models
U.S. Market - Index of Series W114 - W115 Mercedes Benz Vehicles

Model
Years Built
Chassis
Engine
Produced
220
1968-1973
115.010
I4 115.920
128,398
220 D
1968-1973
115.110
I4 615.912
345,376
230
1968-1969
114.015
I6 180.954
152,822
230
1974-1976
115.017
I4 115.951
63,497
240 D
1974-1976
115.117
I4 616.916
126,148
250
1968-1970
114.010
I6 114.920
78,303
250
1971-1972
114.011
I6 130.923
22,624
250 C
1970-1972
114.023
I6 130.923
10,527
280
1973-1976
114.060
I6 110.921
1,241
280 C
1973-1976
114.073
I6 110.921
8,227
300 D
1975-1976
115.114
I5 617.910
53,690