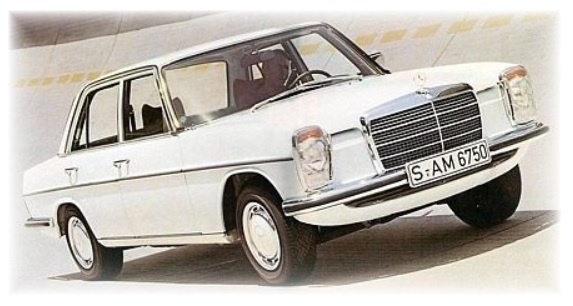 MERCEDES BENZ W114 - W115 BUYERS GUIDE
What To Look For: Mercedes Benz 114 115 Common Repairs
1968 - 1976 Models 220 | 220D | 230 | 240D | 250 | 250C | 300D
Visit our Navigation Menu to see all workshop and repair manuals for the Mercedes Benz 114 and 115 series
---
---
Mercedes Benz W114 - W115, 1968-1976
Buyers Guide, What To Look For, Common Repairs
These cars tend to be fairly bulletproof when treated properly. Their values can vary greatly between 1,000 to 45,000 dollars depending on condition. However, a few issues tend to rear their heads over time as these cars age and mileage increases. So lets start with the mileage.
Checking The Actual Mileage
What you need to be aware of here is that many of these models have an odometer that only goes up to 99,999.9 miles, therefore you need to investigate this to see how many times it has rolled over. Owner and repair shop records can help with this but don't be afraid! Some of these models have been known to crank along up to even a 5th rollover, 500,000 miles...
How Does It Run?
Running cheap fuel could cause problems with the carburetor so check to make sure it purrs like a kitten. The solex carburetors can be problematic and difficult to tune. The twin solex or Zenith carburetors can be problematic to adjust and synchronize. Also the bi-metal-springs under the intake are prone to break and cause trouble with either cold or warm engines.
Other items that could attribute to ruff running could be the need to adjust valves, or replace the timing chain which should be done every 150,000 miles.
What Is The Rust Situation?
Oh yes they tend to have healthy rust issues depending on where they spent their life. Where do they tend to rust? well, all over!!! Check the more common areas like over headlights, the fenders, the floor, floor boards and trunk. Check to see if the jack points are still intact. A magnet can help determine where there may be significant amounts of bondo fiberglass repairs.
The window seals and door seals are known to fail over time causing water leaks to the rear foot wells where the floor pans will rust out
Check To See If There Are Demons Under The Dash
Make sure that the heater blower motor works properly and that the bellow units that control the flaps to switch from heat to A/C are working properly. The blower motor, bellow units and vacuum leaks that are buried deep under the dash would require dash removal for repairs. This can be a 10-20 hour job so no doubt this will effect the vehicles value significantly.
Transmissions Can Be Particular
Automatic transmissions are designed to shift differently under loads and often start out in 2nd gear. Check to see if the trans is adjusted properly and starts out in 1st when you floor it, then make sure it doesn't up-shift too soon causing the motor to lag. This can make quite a difference in performance.
Buyers Guide Checklist
Odometers: With only five digits, the true total mileage may be hidden. Complete service records can confirm actual mileage.
Rust: Check the structural components, sub-frame mounts for the engine and rear suspension, floors, fenders, above headlights, trunk, back window, wheel wells. Structural rust can make it un-restorable.

Rubber seals around windows and doors go bad but they can be can be replaced, though the work is labor-intensive

Engine: Check the oil consumption, look for coolant leaks and the overall condition of the fuel system that could lead to costly repairs.
Suspension: Look for lubrication on all suspension components. Make sure suspension bushings are not dry and cracked which would cause clunking sounds and poor handling.
Carburetors: These may need to be rebuilt or adjusted, and over-heating can warp carburetor bodies.
Heat AC System: Heaters, fans, fan-motor bushings, and switches can be time-consuming to replace due to under dash accessibility.
Body Parts: Missing body parts including exterior and interior trim are less likely to be available so look for a complete car.
Interior: Carpeting, dash covering, headliner, and wood trim accents can be purchased or refinished, but may be costly.
Service Records: Good service records are indispensable if you can get them, and the only real record of possible hidden problems.
Final Notes For Proper Inspection
Get out and drive the car to check, engine condition, transmission operation and bearing noises, differential clunking, axle noise, smooth handling, quiet braking, tight non-sloppy steering.
Play with the controls such as heater, wipers, window regulators. Inspect window channels, etc. If you buy it, you have to live with it!
Try to find a clean vehicle in good condition by comparing several. Finding one with service records is best for knowing its history.
Emissions controls on 1975 and 1976 models make them far more finicky. Models with California emissions are more problematic
Maintenance of these cars can be managed by do-It-yourself owners that have basic knowledge of adjusting valves, replacing points, plugs, and condensers, changing oil and filters, and performing basic transmission services.
U.S. Market - Index of Series W114 - W115 Mercedes Benz Vehicles

Model
Years Built
Chassis
Engine
Produced
220
1968-1973
115.010
I4 115.920
128,398
220 D
1968-1973
115.110
I4 615.912
345,376
230
1968-1969
114.015
I6 180.954
152,822
230
1974-1976
115.017
I4 115.951
63,497
240 D
1974-1976
115.117
I4 616.916
126,148

250

1968-1970
114.010
I6 114.920
78,303
250
1971-1972
114.011
I6 130.923
22,624
250 C
1970-1972
114.023
I6 130.923
10,527
280
1973-1976
114.060
I6 110.921
1,241
280 C
1973-1976
114.073
I6 110.921
8,227
300 D
1975-1976
115.114
I5 617.910
53,690
---
Mercedes Benz 114 - 115 - W114 - W115 Models